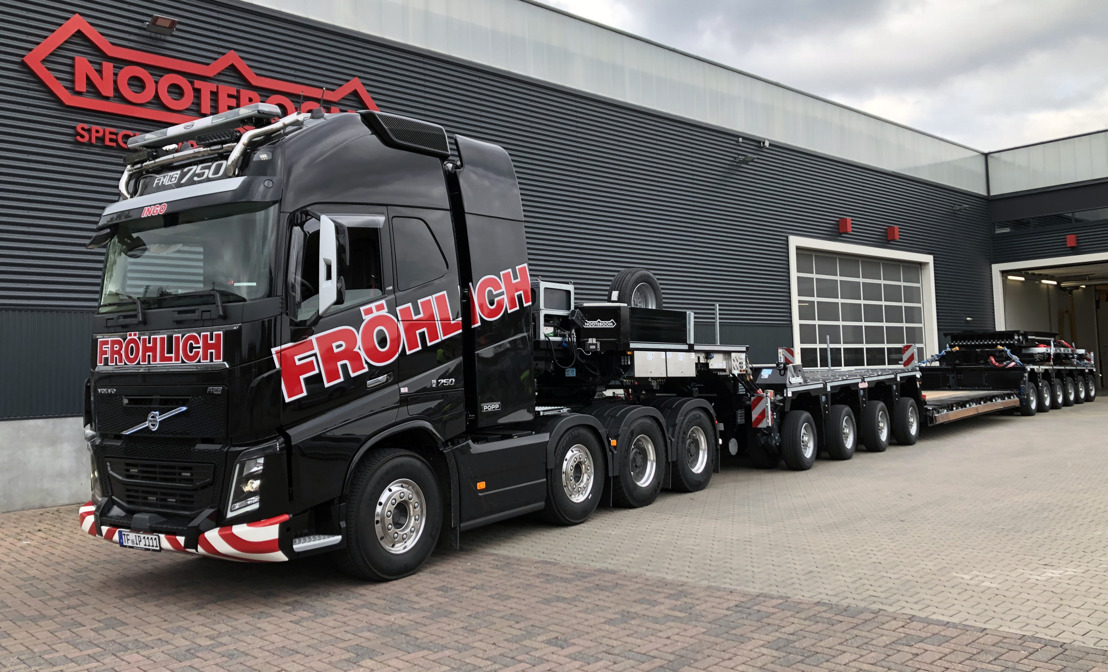 First Nooteboom 4+6 low loader combination in Germany for Fröhlich Bau Kran und Baustellenlogistik
The company Fröhlich Bau Kran und Baustellenlogistik from Rangsdorf (D) has expanded its fleet with the largest low loader in the Nooteboom EURO-PX low loader program. It concerns the EURO-143-46ICP. Mr. Rainer Fröhlich is the first transporter in Germany to use this impressive low loader combination, with a train weight up to 250 tons, for his customers.
This combination, with an axle distance of 1.51 meters, is optimized for the German legislation. Due to the 12 tonne axle load at 80km/h, loads of approx. 100 tonnes can be efficiently transported in and through Germany. These specifications considerably simplify the permit procedures in the individual German federal states. Fröhlich's latest addition is used for the transport of large and heavy loads of over 85 tons, such as construction machinery, general cargo and crane loaded goods such as bridge constructions.
Rainer Frohlich, managing director and owner of Fröhlich Bau Kran und Baustellenlogistik: "Our relationship with Nooteboom has existed since our company was founded in 2014. Our experience in recent years with Nooteboom trailers and the service and support from the Nooteboom organization, gave us the confidence to award this large order to Nooteboom. Nooteboom has an excellent reputation in the field of low-loaders with hydraulically steered pendulum axles. Moreover, the low loaders are very easy to operate for our drivers compared to alternative brands. The big advantage is that we can now easily combine all types of low loader configurations. For us this is a much cheaper and more efficient alternative than the more complex and more expensive module trailers".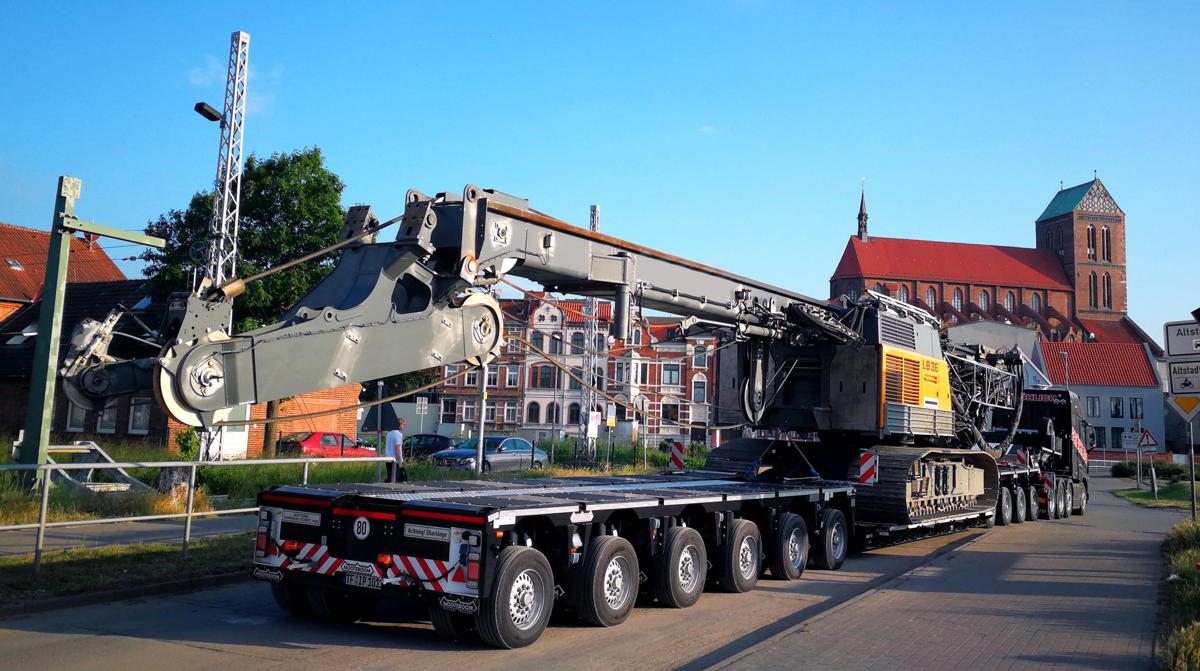 Complete package
Besides the purchase of the 4+6 low loader, the investment also includes an extra 2-axle IC Interdolly and several loading floors. The extendable wide load floor, the extendable spine bed with high/low matrasses and the close coupled bridge pieces offer a special versatility. There are also 5-metre long extension beams that can be combined with both the wide load floor and the spine bed. This results in an effective load floor of 16 metres in length. If the length is not sufficient, it is possible to mount 2 heavy load carriers, with a load capacity of 100 tons, on the 4-axle interdolly and the 6-axle axle bogie. This allows long goods up to 40 metres to be transported.
When using the close coupled bridge pieces, the low loader can easily be converted to, for example, a 10 axle semi low loader. In this configuration the load capacity increases to well over 100 tons.
All configurations of his latest investment are in the vehicle database of NoVAB, the Nooteboom axle load calculation program that Mr Fröhlich uses to determine the vehicle combination for carrying a specific load. NOVAB provides a quick overview of how the load should be positioned and transported on the low loader so that the permissible axle load is not exceeded.

About Fröhlich
Fröhlich Bau Kran und Baustellenlogistik from Rangsdorf near Berlin is a young and dynamic company that was founded some 7 years ago as a crane company and now employs around 25 people. The crane fleet is very diverse and includes mobile truck-mounted cranes (from 45 to 450 tons), mobile construction cranes, tower cranes and loader cranes. In addition to cranes, Fröhlich also has various vehicles for exceptional road transport. For example, the fleet has been considerably expanded in recent years with 14 Nooteboom Ballasttrailers and semi-low loaders. By expanding its activities in exceptional road transport, Mr Fröhlich has set up a special department for heavy transport and further expanded the Nooteboom fleet. Thus, Mr Frohlich was the first German entrepreneur to invest in the largest low loader of the Nooteboom program. In addition to the purchase of the 4+6 EURO-PX low loader, a 2-axle Interdolly, various loading ramps and special load carriers were also purchased. All kinds of different combinations of low loaders and semi low loaders can be easily assembled. Also expansion with for example a 3-axle Interdolly and a 4- or 5-axle EURO-PX low loader can be universally applied to the existing combinations. This offers numerous possibilities for the configuration of different low loader combinations, which can be optimally adapted to the load to be transported.+++++
Note to editors (not for publication): Digital photographs are included in high resolution and are free for publication.

​