Modelshow Europe on 19 March
After two years of absence, the time has finally come again. On Saturday 19th March, the 29th edition of Modelshow Europe will take place in the Plantion in Ede.
This model show has grown to be the biggest event in Europe for this specific model area. What makes this exhibition so special is the fact that this show is specifically aimed at a certain type of model making: only models of cranes, heavy transport and earth moving machines are represented at this show.
As one of the most important suppliers of trailers for international exceptional road transport, Nooteboom is closely associated with this unique event. The largest collection of exceptional trailers in all scales are of the Nooteboom brand, licensed by the leading manufacturers including WSI, IMC, Conrad, Oxford Diecast, Corgi, NZG, Herpa, Marge Models and AT Collections. At the Modelshow Europe we will show you a preview of the latest model, the Nooteboom SWC Super Wing Carrier.Modelshow Europe, Plantion, Wellensiekstraat 4, Ede. Open from 10.00 - 16.00 hrs. More information about this event: www.modelshow-europe.com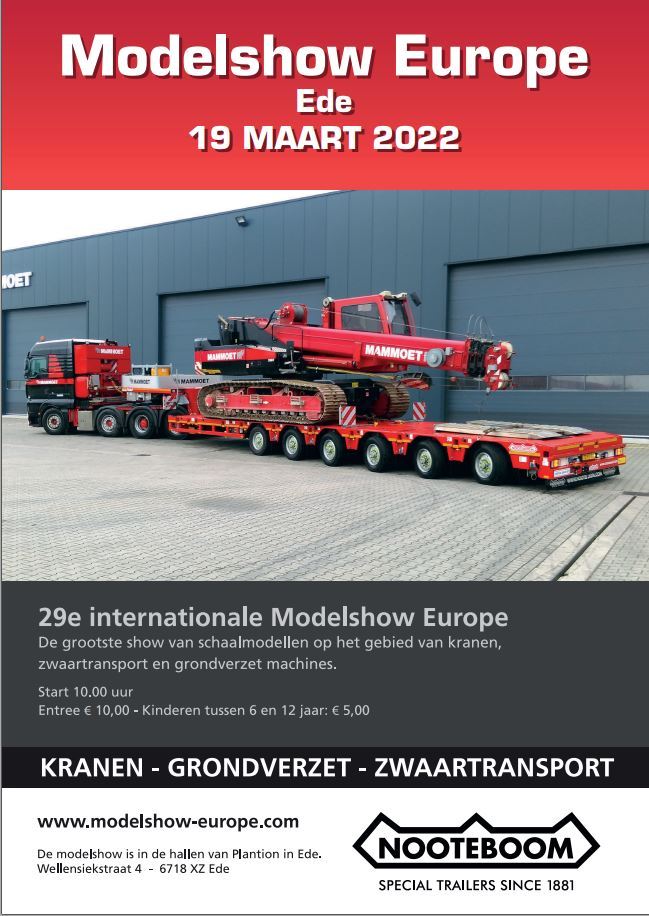 Noot voor de redactie (niet voor publicatie): Digitale foto's zijn in hoge resolutie bijgevoegd en zijn vrij voor publicatie.

​