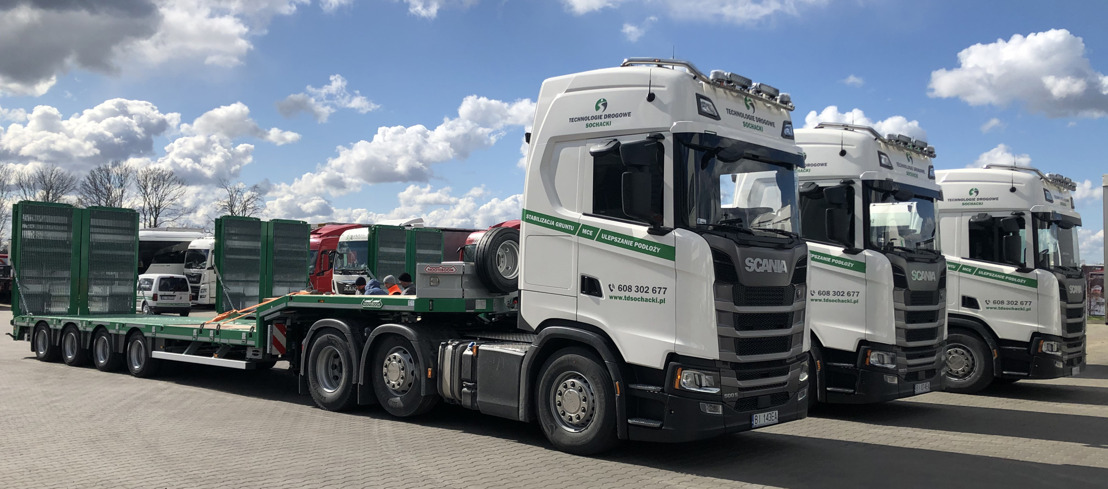 New Nooteboom semi lowloaders for Sochacki Road Technologies
At Nooteboom Polska Square in Nowa Wieś Wrocławska, we have just delivered three semi lowloaders to our new customer Sochacki Road Technologies. This relatively new company which started in 2014, is specialised in the field of soil stabilization, cold recycling and improving substrates. To transport their machinery, they have chosen for the Nooteboom SMART range of semi lowloaders. The high quality, the simple operation of the trailers and the low operational costs where major benefits to choose for Nooteboom. But also the fact that the trailers are completely hot zinc sprayed and the use of A-brand components contributed highly in their choice for Nooteboom.
The delivery consists of two 4-axle OSDS semi lowloaders and a 3-axle semi lowloader, all executed with self-tracking axles for better manoeuvrability and reinforced load floor for extreme high point pressure. Each trailer is also equipped with hydraulic folding ramps for efficient and safe loading and unloading machines onto the load floor. We congratulations our client Sochacki Road Technologies with their 'smart' decision and wish them many safe and successful shipments with the new Nooteboom OSDS semi lowloaders.!